Round Rock Selected for 2021 NCTTA Championships
Submitted by

nctta.president

on Sun, 04/12/2020 - 10:08pm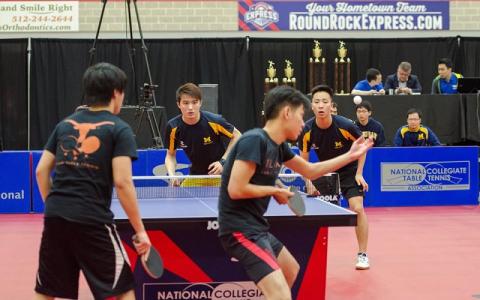 By Andy Kanengiser
NCTTA Media Chair
Round Rock, Texas is billed as the "Sports Capital of Texas,'' and in the eyes of the NCTTA leadership team that's 100 percent true.
NCTTA officials in April announced they've selected the Round Rock Sports Center to host the 2021 college table tennis championships. The three-day tournament will bring 275 of the best college table tennis players in North America to the spacious 21st Century venue in the Lone Star State.
The COVID-19 outbreak in Spring 2020 caused the cancellation of the 2020 tournament in Round Rock in April. It was one of many events shut down worldwide due to the deadly coronavirus pandemic.
"We put the highest value on the health of our players, coaches, volunteers and fans. And while that was a big disappointment, their safety always comes first,'' says NCTTA President Willy Leparulo.
"But we love coming to Round Rock. This is a wonderful relationship dating back to 2016,'' Leparulo said. "So we are thrilled to announce we will return in 2021.''
Nancy Yawn, director of the Round Rock Convention and Visitors Bureau, joins city officials delighted to see the 2021 collegiate table tennis championships back in her Texas hometown.
Based at 231 East Main Street, CVB officials always roll out the red carpet for all-star table tennis paddlers, coaches, fans, volunteers and family members. This will be the third time that Round Rock will host the NCTTA's biggest tournament of the year.
Located next-door to the capital city of Austin, Round Rock eats and breathes sports year-round. The Round Rock Express, a Triple A minor league baseball team is here. So is the 11,000-seat Kelly Reeves Athletic Complex, a first-class venue for football games. Round Rock hosts plenty of youth tournaments.
Having table tennis tournaments in the Lone Star State makes for a relatively short drive for the perennial national champions, Texas Wesleyan University. Led by Coach Jasna Rather, the superb Texas Wesleyan Rams players on the Fort Worth campus hail from countries across the globe, as well as the USA. Teams like the University of Texas Longhorns have an even shorter drive from the Austin campus.
Mississippi College won the 2020 South Regionals coed team championship in Fort Worth February 29-March 1 before the season was soon halted due to the rapid spread of COVID-19. Based in Clinton in Central Mississippi, MC defeated Texas Wesleyan at the Regionals. The two teams are likely to tangle once again at the 2021 championships in Round Rock.
"We know the Round Rock Sports Center is a fabulous venue. And we felt it was the right thing to do to give our Round Rock friends another shot in 2021,'' Leparulo said. "We are so glad it worked out. We are also eager to begin the 2020-21 season this Fall without worrying about this terrible virus.''