Table Tennis Players Compete for Tokyo Paralympics
Submitted by

nctta.president

on Thu, 07/30/2020 - 10:11pm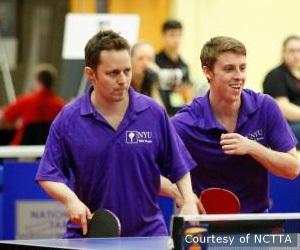 By Andy Kanengiser
NCTTA Media Chair
Ian Phillip Seidenfeld suffers from a medical disorder affecting all four limbs to require multiple corrective surgeries on his legs.
The 18-year-old University of Minnesota freshman is passionate about table tennis. Ian's played the Olympic sport since he was an 11-year-old para player at a San Diego tournament. Fast forward to 2020, and Ian qualified for the 2021 Tokyo Paralympics. Ian is ranked No. 3, U-23 and #16 among all in class 6.
"I'm excited that I qualified, Qualifying is an important step towards my ultimate goal, and I hope to accomplish much more next year in Tokyo,'' Seidenfeld said.
Ian Seidenfeld representing USA Table Tennis © Sportida (Celje, 2018)
Also selected for the Tokyo Paralympics: Tahl Leibovitz, the ex-NYU standout, and Jenson Van Emburgh, a talented Naples, Florida native, the USATT announced in July. Jenson is No. 1 in the world, U-23, and #11 among all in class 3 and will attend Florida Southern in the Fall 2020, while Tahl is No. 10 in the world in class 9, reports USA Table Tennis in their July announcement.
Jenson, 20, is a class 3 wheelchair athlete who has a spinal cord injury that happened at birth. He tried sports like sled hockey, wheelchair tennis and wheelchair basketball before discovering table tennis. He was chosen to the U.S. Junior Para National Team for five straight years.
"We are all very proud of Team USA players. Tahl will have a chance to fight for another Paralympic gold,'' said Jasna Rather, USATT Director of Para Programs.
For Tahl, the 45-year-old New Yorker is entering his sixth Paralympic games. "I think this will be the best ever. I am looking forward to an amazing experience with my teammates.''
Tahl in his playing days at NYU!
Tahl thanked his wife, family and coaches. He will train every day until the games begin. "It's always an honor to represent the United States,'' Leibovitz said. The social worker is a member of the PING Pod club.
Leibovitz looks forward to teaming with Jenson and Ian. "I think we have a good chance to do very well. Ian is a great competitor and good fighter. We have one year to get fully ready. I am looking forward to the Team USA preparation.''
For Ian, it's been a lengthy journey that's taken much hard work and determination. Seidenfeld suffers from pseudoachondroplasia dwarfism.
Fast forward to 2017, and Ian began training for the Paralympics for table tennis. It's been a pretty positive run ever since.
In November 2017, Ian played at the ParaPanama Championships to qualify for the 2018 World Championships. "I played the tournament with broken legs held together by the metal detectors implanted to correct my legs. I finished 2nd in the tournament and later qualified for the 2018 SPINT World Championships by my ranking.''
Ian, who grew up in Lakeville, Minnesota, and attended the University of Minnesota this past season, wasn't done competing. The 2019 Para Panam Games was next and he qualified for the Tokyo games. The Paralympics was moved from 2020 to 2021 due to the COVID-19 pandemic.
Ian considers 2017 to be his breakout year because he began it ranked 31st in the world in men's Class six. He finished the year ranked 12th in the world in class six. To elevate his ranking, he won the 2017 Spanish Open Class six singles and Bayreuth Open Class six singles.
University of Minnesota table tennis coach John Tranter has known Ian quite well. John's table tennis coach, Mitchell Seidenfeld, is Ian's father. Mitchell has four medals from Paralympic games, including gold in Barcelona in 1992.
"Ian and Mitch have an incredible relationship,'' John Tranter said. "It's not easy to have a parent as a coach. But there is no one better positioned to be a great mentor to Ian than Mitch.''
Tranter appreciates what Ian Seidenfeld brings to the University of Minnesota Table Tennis Club. "He is always the first to volunteer to contribute to the behind the scenes aspects of running any club,'' from fundraising to grant writing. "His affable personality has made him indispensable in maintaining a positive culture within our club and team.''
Ian in the center with his University of Minnesota teammates at the recent 2020 NCTTA Midwest Regionals